Quick Opening Bag Filter Housing
To make the use of bag filter housing more convenient, JX Filtration design the quick opening mechanism to reduce the time to open the cover of filter.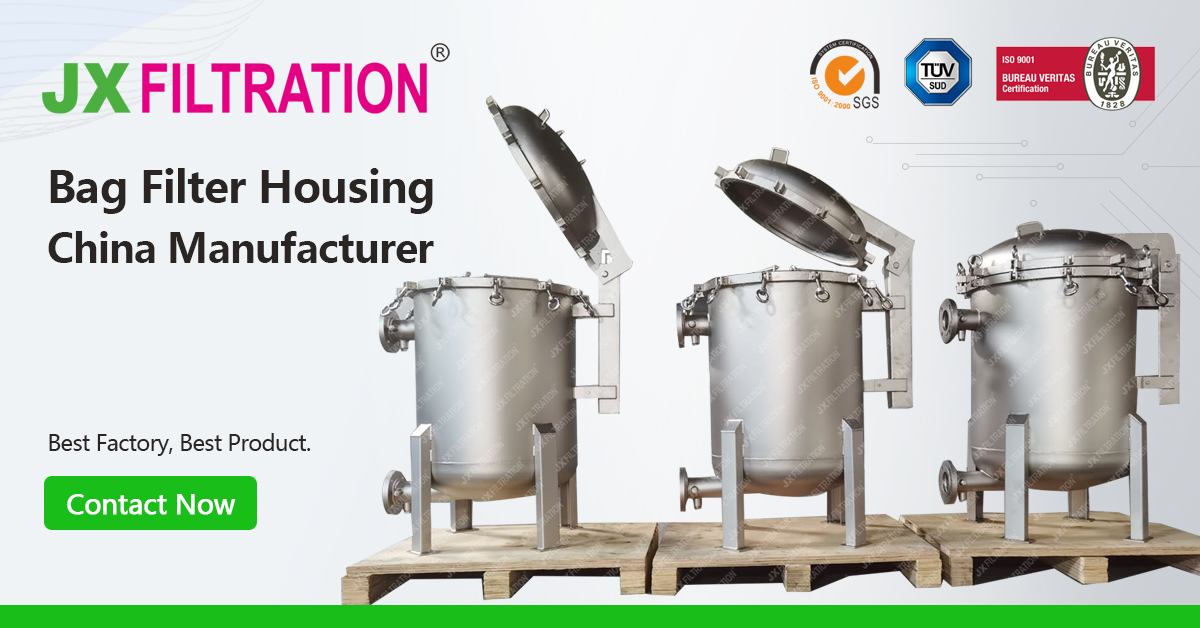 The quick-opening multi-bag filter is different from the traditional bolt-fixed bag filter. It is suitable for liquid filtration with large flow rate and frequent filter bag replacement. The upper cover can be opened and closed by shaking the quick-close transmission shaft, instead of screwing or tightening dozens of bolts in sequence to realize the opening and closing of the cover like a traditional bolt-fixed cover. It is very convenient and quick. 
Advantages
The unique three-claw pressure element cover can ensure good sealing between the filter and the filter bag, and the probability of side leakage of the filter bag is extremely small. Included patented filter bag gland opener for easy operation.
Using the V-Clamp Closurer, the operation is simple, easy to use and safe, it will shorten time to open the cover ( whole process only takes 3s-10s) thus reducing the operating cost.
The liquid flow direction design of side entry and side exit can ensure that the liquid is completely discharged, and the tangential inlet and outlet also greatly reduce the operating height.
The design and volume of the filter are compact, the loss of liquid will be less.
The spring gravity balancer or hydraulic mechanism replaces the conventional manual hanging arm, the top cover is as light as nothing, and the top cover can be opened or put down only by pushing or pulling it by hand.
The top cover with quick opening or hydraulic mechanism can be rotated 360°
Application
Machining equipment: various mechanical hydraulic systems and lubrication systems.
The filtration of the hydraulic system of the rolling mill, the continuous casting machine and the filtration of the lubrication equipment.
It can also be used in petrochemical, textile, thermal power, nuclear power, paper-making, tannery and other industries.
Any requirements, contact us now!
Grace

Email:grace@filtrationchina.com

Mobile/Whatsapp/WeChat:+86 17269571160