JX Filtration multi bag filter
JX Filtration series multiple bags filter is suitable for flow rate with 60~5000M3/H conditions. A filter with a small number of filter bags is equipped with a handwheel and davit arm, which is configured with standard bearing, so it is convenient for opening and operation. For a filter with more than 12 bags, we can choose the cylinder or hydraulic to assist. Only one person is needed during the opening and closing process. The auxiliary device includes a pressure relief valve, a positioning pin, and so on, which can ensure safe operation.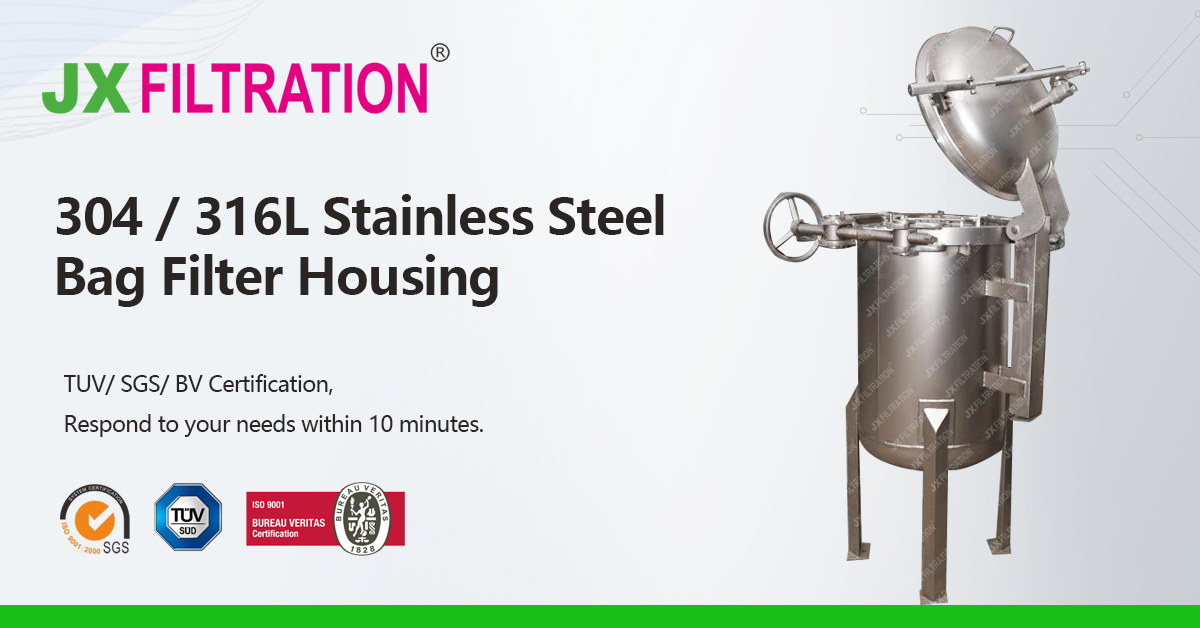 Technical parameters
Manufacturing standards: GB150 "CS", ASME "U" stamp.
Working pressure: 0.6 MPa ~ 5.0 MPa.
Design temperature: 0 ~ 80 ℃.
Applicable medium: water, chemicals, gas, and other flammable and explosive materials.
Pressure and temperature depend on the strength and material of filter elements. Please consult us if you are in a special condition.
Features
Filter bag support: electrolytic polishing stainless steel porous support filter basket.
Unique three-point fixed mode of filter bag, to ensure that there is the good sealing performance between filter bag and filter shell, and the hydraulic or pneumatic cylinder is optional.
High-quality O ring seal to guarantee the operation is convenient and reliable.
The design of the side in and bottom out ensures that the liquid can be completely discharged. Meanwhile, there is tangent-position outlet can be chosen.
Standard mode is for 2 ~ 24 bags (1# and 2# bag), and the largest filter we can produce now is 40-bag ones.
Material
Shell material: # 20, 304, 316L、2205、2507.
Sealing gasket: Silicone, NBR, Viton.
Filter bag material: Polyester, PP, Nylon, PTFE, Glass Fiber
JX FILTRATION is now changing from a single filter supplier to a strong comprehensive ability and technology service filter supplier.

Professional manufacture
JX FILTRATION gets the GB150, and ASME manufactures license, which can ensure bag filter reliability and safety for design and manufacture.

Rich filtration experience
JX FILTRATION has more than ten years of filtration experience, ever serviced for 200 enterprises, and could choose the correct and suitable solution in time according to your condition.

Strict quality standard
JX FILTRATION filters are in accordance with ISO9001 quality standard, meanwhile get the CE certificate also can be inspected by TUV.

Individual service
JX FILTRATION can fulfill your special requirement just like line fluorine and 2507 material or pressure more than 10 Mpa. We just want to satisfy you without the MOQ requirement.

Standardization
Single bag filters, including all fittings, are all standardized. We can manufacture 2000 sets each month, and our stock can be at least 100 sets.

Quick open structure
Easy operation and high-efficiency bag filters are widely applied to the application of high capacity and process of frequent replacement of bags and are also most suitable for mass production and safe filtration.  

High-performance structure
It is suitable for all the harsh filtration requirements. JX FILTRATION takes high standards to design and manufacture, including its high-performance structure and fine cast parts.

Filter sealing structure
A three-point press ring ensures well sealing for filter housing and bags. Incidental tools make operation easy and simple.  

Most reasonable flow structure
The design of the side in and bottom out can ensure liquid discharge completely and provide a Tangent position outlet for your option.  
Any requirements, contact us now!
Grace

Email:grace@filtrationchina.com

Mobile/Whatsapp/WeChat:+86 17269571160