The Bag Filter for Water is divided into two types from the top cover locking device: eyebolt and V-hoop type, and four types from the top cover opening method: spring force arm assisted opening type and vertical lifting and shifting type, quick open type and hydraulic open type.
The spring-loaded arm-assisted V-hoop quick-opening and hydraulic opening Bag Filter for Water is especially suitable for the working condition that requires frequent replacement of filter elements or rapid switching of filter elements, and its opening operation takes only 30 seconds, which greatly improves the working efficiency.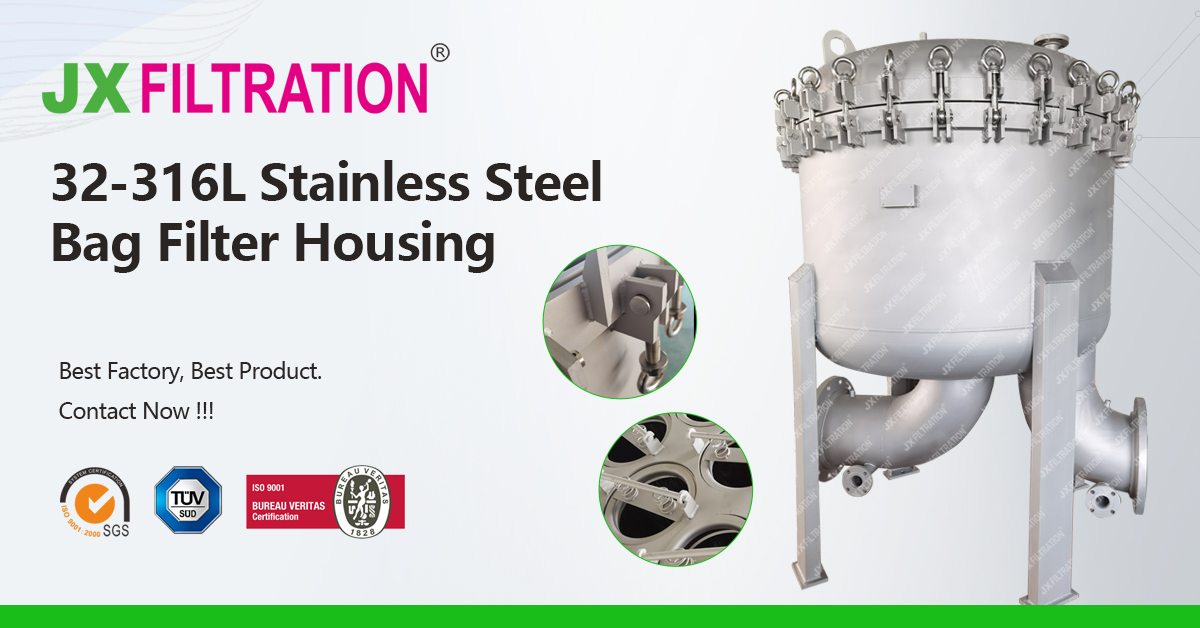 The
Bag Filter for Water
is suitable for high flow rate and large solid content, and the number of filter bags in the filter can be increased from
single bag to 32 bags
.
Design features
◆Humanized design, long swivel rod type V-clamp locking, opening only 30 seconds.
◆The opening cover has pan and vertical opening type, which can meet the requirements of the use site.
◆Spring force arm assisted opening mechanism, so that the top cover can be opened easily and effortlessly, and can be operated with one hand.
◆The unique three-point pressing device ensures good sealing of the filter bag and avoids side leakage of liquid.
◆The flow rate is from
5 cubic meters per hour to 1000 cubic meters per hour
.
◆Can meet China GB-150, international ASME, CE pressure vessel approval standards for production and supply. (U-STAMP is available)
Configuration options
◆JIS flange, DIN flange, ANSI flange, cable connection (internal thread interface)
◆Import and export direction can be designed according to the customer's site pipeline position
Hollow floating ball can be installed in the filter bag to divert the flow and control the amount of residual filtrate in the filter bag.
◆Adding magnetic rod assembly in the filter bag, the magnetic rod can adsorb metal particles.
◆The filter is equipped with a heating jacket, which can improve the filtration efficiency for highly viscous liquid.
◆Seal ring has various materials: Nitrile rubber (NBR), EPDM, VITON, PTFE, which can be applied to different media.
Typical applications

Applicable industries: fine chemicals, water treatment, paper, automotive industry, petroleum and petrochemical, machining, coatings, electronics, etc.
Applicable liquid type: various liquids with trace impurities, extremely wide applicability
Main function: remove particles of various sizes, purify liquids, and protect key equipment.
Any requirements, contact us now!
Grace

Email:grace@filtrationchina.com

Mobile/Whatsapp/WeChat:+86 17269571160