Single Bag Filter Housing
Working Principle
The Single Bag Filter Housing is supported by the stainless steel mesh inside. The liquid flows into the chamber via inlet and go through the filter bag. The impurities will be blocked in the filter bag. The filter bag can be reused repeatedly after washing or cleaning. And also the filter bag is easy to change. With no material consumption, this filter has low operation cost.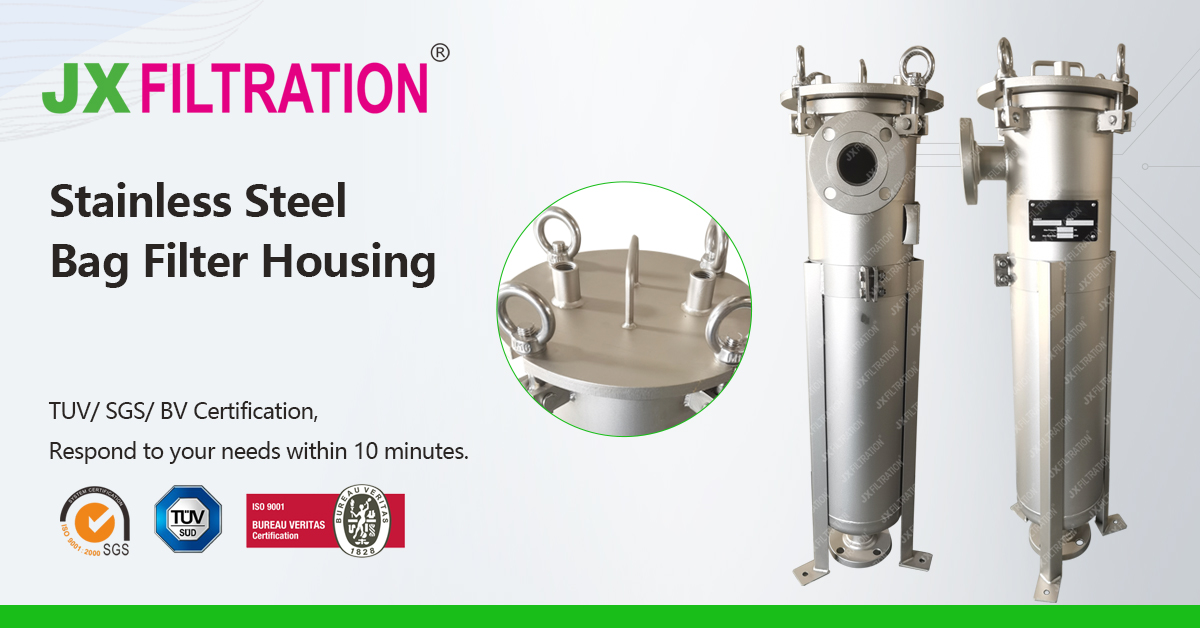 Technical Parameters
Model

Filtering area

(㎡)

Max flow

(t/h)

Working pressure

(Mpa)

Volume

(L)

Inlet/outlet

Connection

Diameter

(mm)

Housing height

(mm)

JXB-1

0.20

16

0.5

8

DN40

180

440

JXB-2

0.50

32

0.5

17

DN50

180

810

JXB-3

0.09

6

0.5

1.3

DN32

102

210

JXB-4

0.16

12

0.5

2.5

DN32

102

380
Advantages
High Capacity with small size.
Labor saving: easy to replace filter bay, no need to clean the filter.
Cost saving: filter bag can be used repeatedly after cleaning.
High precision: can be reached o.5μm.
Low leakage risk which ensures high filtering quality.
Energy saving: high working pressure, low pressure loss and low operation cost.
Wide application, flexible use and various installation method for choice.
Remarks
Max capacity is the reference value based on water test, the actual value can be different because of liquid viscosity, solid content and pressure difference.
The material can be carbon steel, ss304 and ss316L.
ring's material can be customized per customer requirement to meet the material needed to be filter.
The lock method can be clamp type, hasp type and lifiting lug type.
Application
Chemical industry, pharmacy, automobile industry, light industry, food industry, electroplating industry, etc.
Any requirements, contact us now!
Grace

Email:grace@filtrationchina.com

Mobile/Whatsapp/WeChat:+86 17269571160